Random packing has been used in gas and chemical plants for many years for fractionation, absorption, and stripping operations. Its benefits are well established and include increased capacity, improved distillation or absorption efficiency and lower pressure drop compared to other mass transfer contacting devices such as structured packings or trays.
The primary objective of random packing is to create a surface area for vapor/liquid contact so that Mother Nature (and Father Thermodynamics) can produce chemical separation. A good packing must provide sufficient surface area for liquid and vapor to contact and not create a tortuous flow path, which will result in a higher pressure drop.
Haiyan Weijia Special Steel Co., Ltd has developed a range of metal random packings that improve performance, capacity and efficiency. These metal random packings are designed to increase capacity in towers that contain trays, as well as to improve performance in towers that use other types of mass transfer equipment.
HY-Pack Packing
The HY-Pack is an advanced product of Pall ring random packing which has double the number of internal fingers and two layers of windows. This ring has a geometric design that minimizes liquid hold-up and provides greater capacity and efficiency than other random packings.
HMTP Packing
The high-efficiency, low-pressure drop HMTP is an improved alternative to the widely used Pall ring packing. It incorporates a high void fraction and a more open shape with reduced aerodynamic drag. It also offers more drip points per element and better liquid distribution. It exhibits approximately 40% lower pressure drop than equal-sized pall rings.
It has a low aspect ratio (element height: element diameter) favoring a packing orientation that results in greater capacity, lower pressure drop, and improved fouling resistance. It also has a low liquid hold-up, enabling it to be used in systems with very slow-moving gases.
This ring features a convex rib shape and has double the number of internal fingers and a curved outer surface to improve loading capacity. The convex rib shape also reduces pressure drop, increases void fraction, improves fluid spread and improves operating elasticity. It also has a high strength-to-weight ratio and is available in both plastic and metal materials.
Metal Random Packing for Distillation
Some processes require column packings that can withstand temperatures that are far beyond the capabilities of other material. This is why some companies choose to utilize metal random packing in their distillation applications.
In addition to improved temperature resistance, metal random packings are also a more durable option than plastic packings and offer a variety of other advantages, such as better mechanical strength and entanglement resistance. They are especially useful in high-temperature wet scrubbing and air-stripping applications.
They can be manufactured in a wide range of metals, including carbon steel, stainless steel and alloy steel. They are available in a variety of sizes and are easy to install and clean.
As with any type of random packing, there are many factors to consider when selecting the appropriate one for a specific application. Some of the most important ones are: * Process requirements* Direct replacement of an existing packing* Experience with a certain packing with a specific application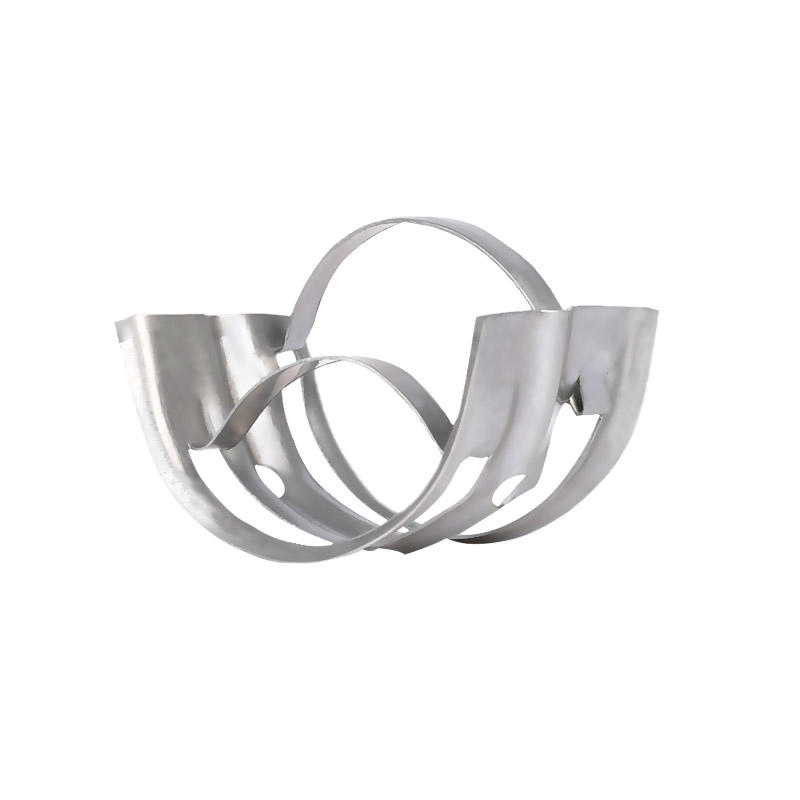 METAL NUTTER RING
| | | | | |
| --- | --- | --- | --- | --- |
| Size | Pieces(m³) | Weight(kg/m³) | Surface Area(m²/m³) | Void space(%) |
| 0.7# | 167400 | 176 | 266 | 97.7 |
| 1.0# | 67100 | 178 | 168 | 97.7 |
| 1.5# | 26800 | 181 | 124 | 97.8 |
| 2.0# | 13600 | 173 | 96 | 97.8 |
| 2.5# | 8800 | 83 | 83 | 97.9 |
| 3.0# | 4200 | 66 | 66 | 98.1 |