Metal Pall Rings (MPR) have become increasingly popular in the chemical and petrochemical industries due to their high efficiency and durability.
MPRs are a type of random packing that provides a large surface area for mass transfer, making them ideal for distillation, absorption, and stripping processes.
Recent advancements in MPR technology have led to the development of new designs that offer even greater efficiency and performance. One of the latest innovations is the high-performance MPR, which features a unique design that provides greater surface area and improved flow characteristics compared to traditional MPR.
The high-performance MPR design features a scalloped edge that provides more surface area than traditional MPR, which results in improved separation efficiency. Furthermore, the scalloped edge promotes better liquid distribution and reduces the potential for channeling, which can decrease separation efficiency.
Another advantage of high-performance MPRs is their ability to handle higher liquid and gas flow rates compared to traditional MPR. This makes them ideal for larger-scale industrial applications that require higher throughput rates.
Moreover, manufacturers are now utilizing advanced manufacturing techniques, such as laser welding and precision molding, to produce more precise and uniform MPR products. This ensures that each piece of MPR is consistent in shape and size, which improves packing efficiency and reduces the potential for clogging.
In the chemical industry, MPR has been used for various applications, including chemical reaction distillation, extraction, and purification. MPR's high efficiency and durability make it an ideal choice for these applications, which often involve harsh chemicals and high temperatures.
The petrochemical industry has also widely adopted MPR for oil refining and gas processing applications. MPR's high-performance design allows for greater throughput and improved separation efficiency, which leads to reduced operational costs and increased product yield.
Moreover, the pharmaceutical industry has also begun to explore the use of MPR for drug purification and separation. The high efficiency and purity offered by MPR have the potential to improve the quality of pharmaceutical products and reduce costs associated with purification processes.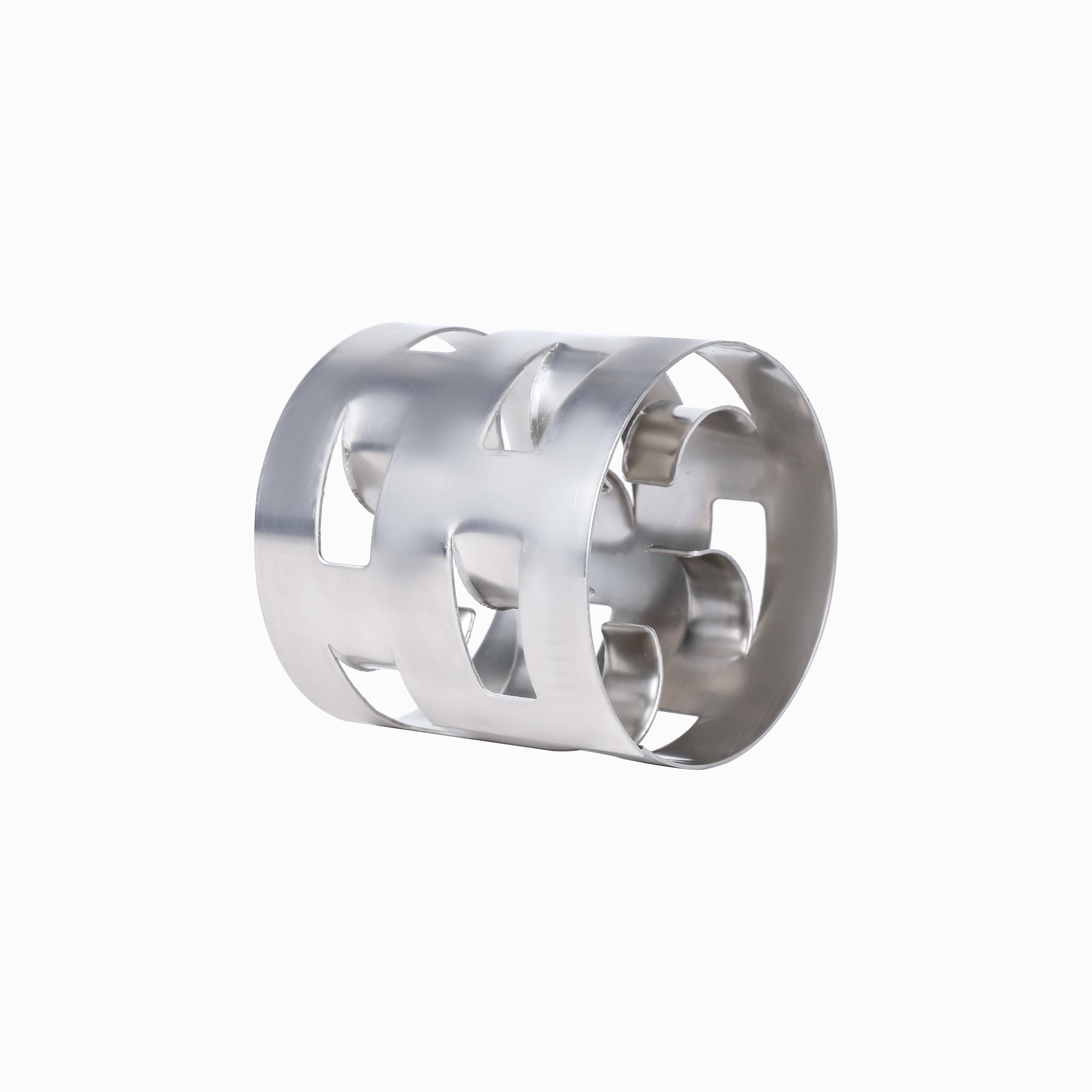 METAL PALL RING
| | | | | | |
| --- | --- | --- | --- | --- | --- |
| Sizes | Diameter(mm) | Bulk density(kg/m³) | Number(m³) | Surface area(m²/m³) | Free volume(%) |
| 10# | Φ10*H10*0.3 | 571 | 768000 | 482 | 92.7 |
| 16# | Φ16*H16*0.3(0.4) | 408(543) | 214000 | 338 | 93.1 |
| 25# | Φ25*H25*0.5(0.6) | 403(483) | 52000 | 218 | 94.8 |
| 38# | Φ38*H38*0.6(0.8) | 326(435) | 15200 | 141 | 96.08 |
| 50# | Φ50*H50*0.8(1.0) | 322(403) | 6500 | 107 | 95.9 |
| 76# | Φ76*H76*1.0(1.2) | 262(314) | 1830 | 74 | 97 |
| 89# | Φ89*H89*1.2(1.5) | 283(353) | 1200 | 65 | 98 |