Metal Random Packing is a type of filtration media in which pieces are randomly dumped into a column and allowed to settle.
It is used in chemical separation operations such as distillation, stripping, and carbon dioxide scrubbing.
Choosing the right random packing depends on your process. The material you choose, the amount, and the design should be tailored to your application.
Improved Process Efficiency and Capacity
The best random packing for your application should be cost-effective and have resistance against fouling and corrosion so that they can last for a long time. They should be easy to maintain and replace when needed.
A wide range of materials is available for your random packing. This includes plastics, ceramics, and metals.
Selecting the right material for your random packing can be tricky. Different materials have different wetting rates and friction characteristics that will affect the operation of your tower.
Typically, the more surface area the random packing has, the greater the amount of vapor-liquid contact it will make. Increasing the surface area of the random packing will also increase its capacity.
Consider the size of your tower before selecting a random packing to ensure that it will fit within the structure. The packing's shape and makeup are also important.
Newer Random Packings for Increased Performance
Several newer generations of random packing offer higher capacity and efficiency over the original Raschig Ring style. These include Pall Rings, Saddle-Ring, and IMTP random packings.
These ring-shaped packings feature windows and fingers that allow gas to penetrate the ring and create drip points that significantly improve gas flow. These packings have been widely used in absorption and distillation applications around the world.
High-Performance Saddle-Ring – A third generation of random packing, this Saddle Ring has a lower aspect ratio than the Pall Ring packing and promotes an advantageous installation because it settles in a way that orients more flat surfaces parallel to vapor and liquid traffic.
This packing delivers a higher capacity and efficiency than the Pall Ring while maintaining an effective surface area for vapor/liquid contact.
These ring-shaped random packings are a great choice for distillation, absorption, and stripping applications where pressure drop is an issue.
Metal random packings are the preferred option for many mass transfer/heat transfer processes, offering a high efficiency and lower pressure drop to maximize throughput.
Random packings also reduce the need for trays in small towers, a common disadvantage of trayed towers. Packed towers also offer higher capacity and a lower percentage of liquid holdup compared to trays.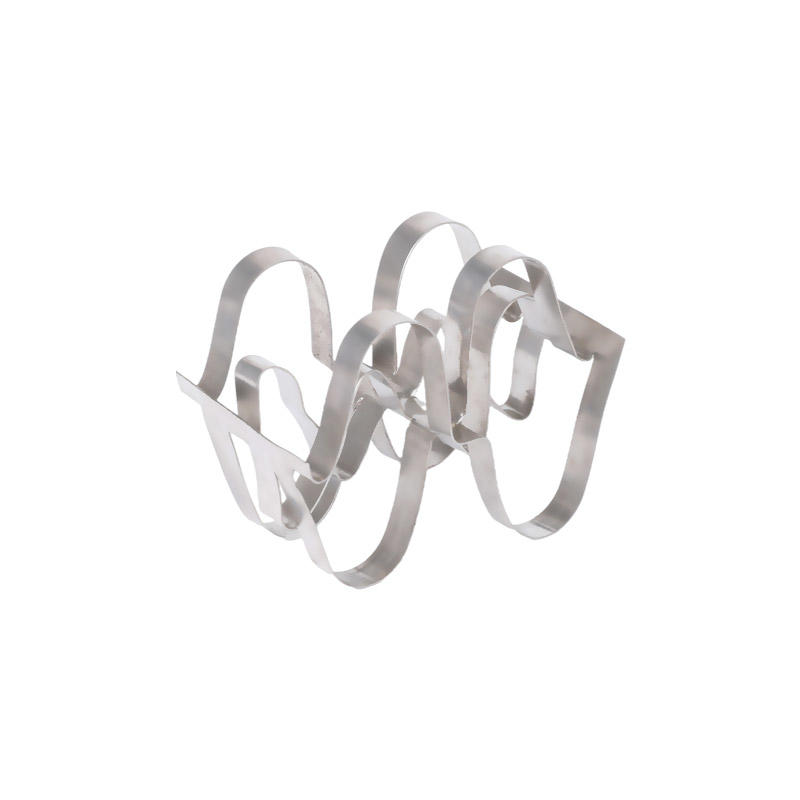 METAL SUPER RASCHIG RING
| | | | |
| --- | --- | --- | --- |
| Size | Surface area | Void ratio | Number |
| (mm) | (m2/m3) | (%) | (pieces/m3) |
| 15 | 315 | 96 | 180000 |
| 20 | 250 | 97 | 145000 |
| 25 | 180 | 98 | 46500 |
| 30 | 150 | 98 | 32000 |
| 38 | 120 | 98 | 13750 |
| 50 | 100 | 98 | 9500 |